Taking Ballistic Shields To The Next Level
Deploys instantly to provide 3-feet of ballistic cover in emergent high-risk events.
Extremely portable one-piece folding design looks like a briefcase. Provides operators immediate access to life-saving ballistic cover in emergent events and covert applications.
PROUDLY MADE IN THE USA
USED BY PROFESSIONALS
"Concealed in plain sight" - low-profile design looks like a briefcase, allowing the shield to be carried covertly in any environment - school, undercover operations, and protective details. Used by SRO's, patrol, detectives, undercover officers, special operations, and K9 officers. Many applications - from warrant executions and high-risk searches to active shooter kits and dignitary/executive protection details.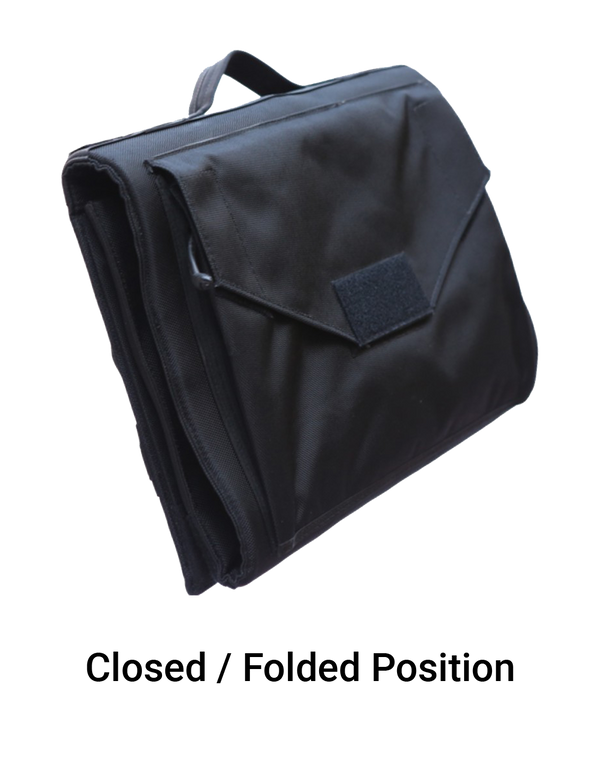 Superior Materials

Ballistic Material: Multi-layer laminated Kevlar®. One-piece folding design (no seams or gap in ballistic coverage).

Blunt Force Inserts: Kydex® plate and closed-cell foam Shock Pad.

Cover: Water-resistant 1680 denier ballistic nylon.

Lightweight & Compact

7 lbs. (10 lbs with Level III Rifle Plate inserted).

Closed Position: 12" x 17.5" x 1.75" Open Position: 36.5" x 17.5" x 0.58"

Protection Level

Certified by NIJ approved laboratory for ballistic resistance in accordance with Modified/Abbreviated NIJ 0108.01 Threat Level IIIA (Level III with optional Rifle Plate). The MTS™ does not bend or fold when shot.

The MTS™ is resistant to penetration from edged weapons.

Utility Pocket & Sling

Large covert-access pocket with interior lined Velcro® to store critical items such as a med kit, firearm, tourniquet. TASER®, magazines, flashlight, etc.

Condor® Swiftlink Padded Bungee Sling enhances comfort for extended wear time and allows for hands-free operation. Bungee feature supports defensive tactics techniques. 2-sided quick release buckles enables operator to quickly remove shield if needed.
Highly Recommended by National Tactical Officers Association
The National Tactical Officers Association (NTOA) tested the MTS™ Multi-Threat Shield in real-world situations. The result was a top rated "Excellent" score, and the MTS™ was awarded the right to display the Gold Level Member Tested Logo.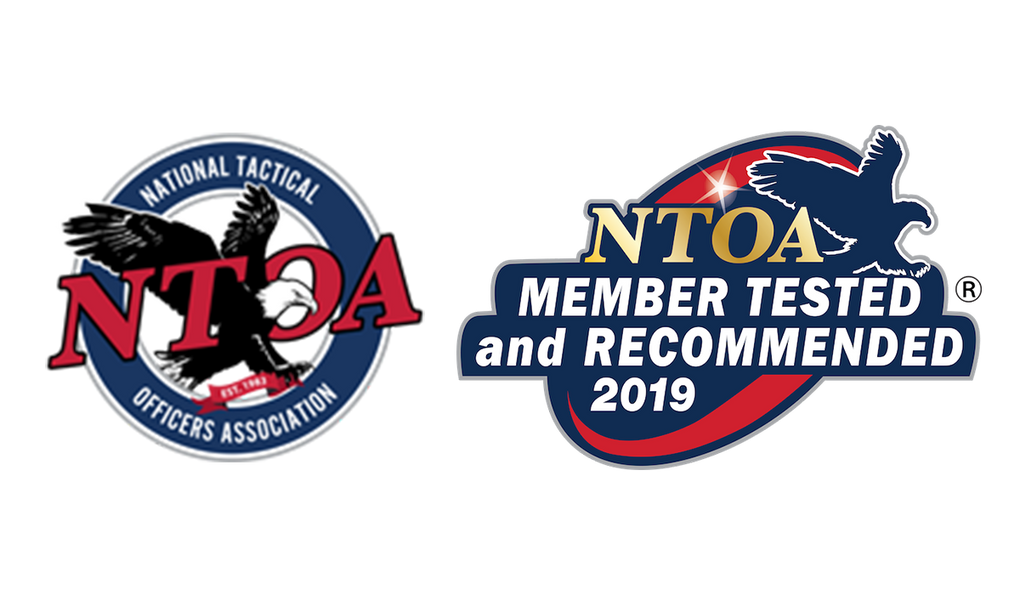 PRACTICAL FOR EVERYDAY CARRY
Extremely portable. Deploys instantly to provide 3-feet of ballistic cover in emergent high-risk events. Easily kept in multiple locations for immediate access, including within arm's reach in a vehicle or underneath/next to an office desk. Takes up minimal space in a vehicle's cargo area.
ID Panel

Large Velcro® ID field on the front of the shield for an agency patch (e.g., "POLICE" or "SECURITY") to provide immediate identification to subjects, as well as responding officers.

Versatile

Ambidextrous carry. 3-feet of ballistic protection deploys in a split second, providing coverage for the operator or multiple people at different threat angles, including overhead, as well the ability to up-armor vehicle windshield or windows. The MTS™ can also be used in both the closed and open position to defend against edged weapons, blunt objects, and punches/kicks.

Hands-Free

Tactical sling and lightweight design allows the operator to go hands-free while still retaining the shield for vital functions such as rescues, defensive tactics, reloading or weapon manipulations. The shield can be quickly re-deployed as needed.

Easy to Use

Rapid single-handed deployment, allowing operator to use a firearm while moving through a high threat environment, and the freedom of movement while staying covered, whether sprinting, standing, crouching, or crawling. Can be held for an extended period of time without fatigue.
Rifle Plate - Level III Protection
Optional 16" x 9" ultra-lightweight (3 lbs) custom Dyneema® rifle plate rated Level III in accordance with NIJ-STD-0101.06. Rifle plate is inserted into top panel area of the MTS shield, providing protection for vital areas against rifle rated threats (.223/5.56 or 7.62FMJ).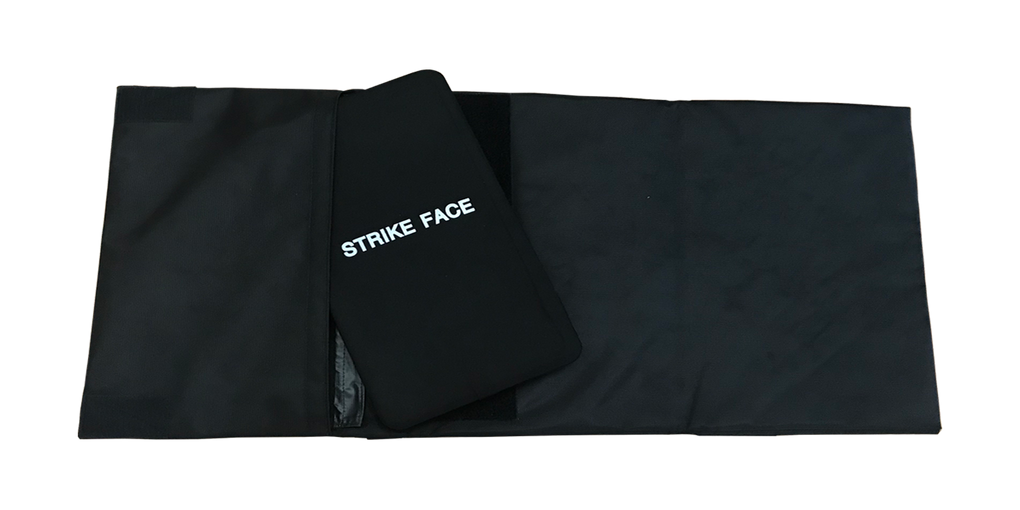 Trusted by Law Enforcement
The MTS™ has been tested, evaluated, and purchased by numerous U.S. federal, state, and local law enforcement agencies. It is being used by school resource officers, patrol, undercover officers, detectives, K9 officers, tactical units and protective operations.
References available upon request.
LAW ENFORCEMENT & SECURITY APPLICATIONS
Traditional ballistic shields are excellent tools for planned operations, but their size, weight and cost make them impractical for everyday use, emergent events, and covert operations. The MTS' versatile, lightweight, compact, and discreet design covers this gap.
School Resource Officers

The shield's appearance as a briefcase makes it ideal for School Resource Officers (SRO) to carry on school grounds or keep in an office/classroom without causing undo attention or fear. The SRO can covertly respond to a potential threat without alerting the subject. In the event of an attack the SRO can immediately deploy the shield to provide life-saving protection. In the event of a school shooting, the MTS gives the SRO immediate cover to engage the threat and/or protect students and faculty as they run to safety.

Executive/Dignitary Protection

Ultra discreet and compact design enables dignitary and executive protection operators to have 3-feet of ballistic and edged weapon protection that's hidden in plain sight. At only 7 lbs. and with a padded sling, the MTS can be carried for extended periods of time without fatigue.

Detectives / Undercover

Wearing body armor may be impractical for undercover law enforcement. But, if things turn bad quickly, they're going to need armor in a moment's notice. The MTS gives detectives and undercover officers the distinct advantage when it comes to covert carry for amor - nobody will suspect he/she is carrying a 3-foot ballistic shield. In a split second the detective/undercover officer can deploy the shield and have full coverage for himself, his partner(s), and the public.

Patrol High-Risk Searches

The MTS provides patrol officers/deputies with immediate cover when exiting their vehicles for high-risk searches and apprehensions. The bulkiness and cost of standard ballistic shields make it unrealistic for them to be issued to patrol officers/deputies for everyday policing. The MTS makes this possible, giving officers/deputies the added cover that may be needed in high-risk events, including active shooter incidents.

Officer/Citizen Rescues

The MTS provides mobile cover in the event an injured officer or third party needs to be rescued from a "hot zone." If needed, the lightweight design and included tactical sling enables the officer to go hands-free to assist during the rescue, while still retaining the shield. While hands-free, the deployed shield can be draped across the officer's back or front.

Dynamic Vehicle Stops/Interdictions

High risk vehicle stops and vehicle interdictions are among the most dangerous activities for law enforcement. The MTS can be quickly deployed while an officer exits his/her vehicle, providing immediate and significant cover prior to approaching a subject's vehicle. The MTS can also be used to up-armor the vehicle windshield or windows, including being hung over the opened vehicle door frame to provide additional cover. If needed, the shield can also be held in the open position while the officer is seated inside his/her vehicle.

Expedient "Up-Armored" Police Vehicle Operations

The MTS can be used to quickly up-armor a vehicle windshield or windows, including being hung over the opened vehicle door frame to provide additional cover. If needed, the shield can also be held in the open position while the officer is seated inside his/her vehicle.

Testimonials
The MTS covers a critical gap in public safety. It is the only shield that provides instant armor for police and the people they protect.
We received our shields on Wednesday and we already deployed them yesterday afternoon during a search warrant execution. The size of the shield made it easy to deploy and maintain cover. They are a great addition to our arsenal of tactical tools.
"My overall view of the MTS-Multi Threat Shield is exceptional. The ability to have ballistic protection this quickly and easily can save lives. The uses for the MTS are limitless. Because of its compact design, quick deployment, and effortless maneuverability, I would highly recommend the MTS system and believe it is ideal for patrol, detectives, and other units who may not be able to carry and deploy the equipment a tactical team provides."
"I highly recommend the MTS. I carried one both CONUS and OCONUS as a solo operator for high net worth celebrity clientele daily. Everyone assumed it as my computer case. The MTS gave me peace of mind that I had mobile cover for my client with us."
"I have been involved with the use of shields for most of my LE career. The issue was always size and weight when it came to a piece of equipment for patrol. The MTS is the most versatile shield I have seen and used to date. Officers could effectively and efficiently carry this shield in their cars, throw it on their body and run into an incident all the while having the confidence that they have Level IIIA protection at their side. The shield is light enough to use and successfully engage with your duty handgun while you move through a high threat environment."
Learn More
Click below to download the MTS Full Spec Sheet, NTOA Review, Law Enforcement Applications White Paper, and NIJ Lab Reports.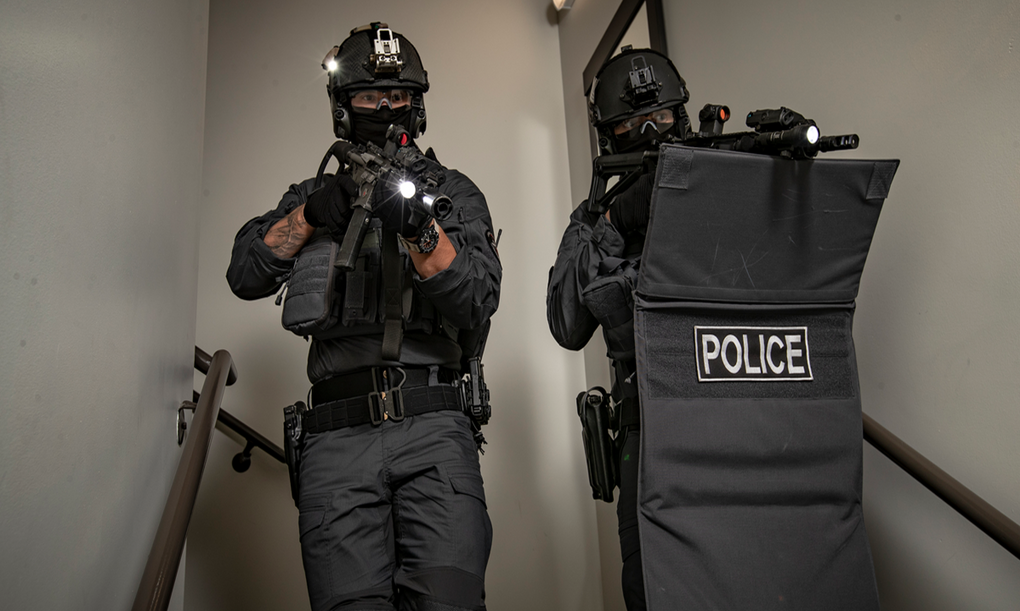 Get the lightest, most discreet, compact, versatile ballistic shield ever made!